The Mission


Provide a solution to promote and sell the group's 17 hotels, direct, via the corporate website.
Offer clients a secure, simple and fast solution to compare and book the group's hotels.
The Solution

A web booking engine that adopts the look and feel of the corporate website, is intuitive and fast for customers to use
Simple management tools empower the hotels to rapidly deploy and modify rates and offers on the website
A fully managed and supported solution ensures customers are able to browse and book, 24/7
Customer data is accessible to Pacific International Hotels, enabling them to develop direct online relationships with clients using tools such as e-marketing
The Result
Netroomz has delivered significant increases in room-nights booked via their own website, far exceeding the expectations of the company's executive team.

"Netroomz has been a hit, it has exceeded our expectations.
We have enjoyed a dramatic increase in direct online bookings and it is continuing to grow.
The feedback from our guests and our staff alike has been very positive."
Mr John Hiscox
General Manager - Finance and Operations
Pacific International Hotels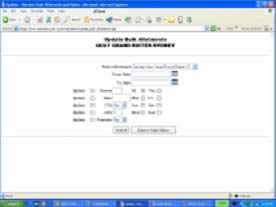 Pacific International Hotels operate 17 hotels and resorts situated throughout Australia and the Asia Pacific region.
Designed for comfort and relaxation, Pacific International Hotels are situated in popular, sought-after locations, within easy walking distance of major business, shopping, entertainment and tourist attractions.
Guests can select from traditional hotel style accomodation, serviced apartments, and full service all suite hotels - all of international standard.

Fully Managed and Outsourced
The Netroomz solution is fully managed and outsourced.
This means that Pacific International Hotels staff require no technical expertise, training or internal infrastructre to maintain and manage their web booking presence.
Easy to manage and update
Because Pacific International Hotels operate in a highly-competitive business, they need to be able to respond swiftly to changing market conditions.
Netroomz provides administration functions that enable their hotels to quickly and easily deploy or modify rates, restrictions, offers and availability on the web-booking engine -- with immediate effect.
Scalable
The solution is built upon industry standard technologies ensuring Pacific have a foundation which is scalable can adapt to meet their future needs.
Easy and fast to book
Pacific International Hotels wanted to implement a solution which would enable their clients to easily browse and compare the rates and packages on offer across their collection of hotels and to confirm a booking, quickly and securely.