Dymocks is one of Australia's largest and most successful franchised book retailers, operating a network of stores in Australia, New Zealand, Hong Kong and Singapore.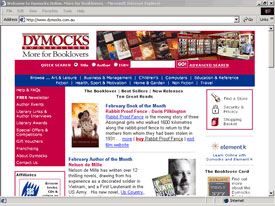 Biko Technologies developed and implemented a range of projects with the Dymocks website achieving significant improvements for customers as well as streamlining back end fulfilment processes.
Biko also provided technical advice and expertise on capacity planning and redundancy for the website's infrastructure.

"What we really value are the suggestions that come back. Not only are they doing the technical stuff, they are thinking about Dymocks' business while they work."
Once more, Biko's diligent management and project communication ensured a successful on time, on budget implementation."
Christine Simmons
General Manager
Marketing & Merchandise, Dymocks