The Mission


Following the successful implementation of a Shared Services Centre for their German hotels in 1997, Hyatt International decided to relocate and expand the center to cover hotels in other parts of Europe.

The Solution

Biko Technologies project managed the new implementation located in Mainz, Germany, after a successful implementation of the Pan-Pacific Shared Services Centre in Melbourne
The center comprises a 40-seat contact center as well as accommodating 20 finance, information systems and other support staff
The center handles reservations callers from 13 countries comprising English, French, Italia German and Spanish speakers
The assignment involved a turnkey approach including assistance with site selection and space planning, selection of key technologies and vendors, staffinrequirements, telephony to handle multiple languages and management of the project capital expenditure budget and critical path
The Result
Hyatt's Pan-European Shared Services Centre opened on schedule and below budget
The Mainz center has successfully expanded to seamlessly cover the region with calls routed to customer service agents based upon the caller's origin

"With the experience of a successful implementation in Melbourne, Australia we again engaged Biko Technologies to manage this important project for us in Europe.
Once more, Biko's diligent management and project communication ensured a successful on time, on budget implementation."
Mr Gebhard Rainer
Vice President, Hotel Finance and Technology
Hyatt International Corporation

Pan-Pacific Shared Services Centre and Reservations Contact Centre Implementation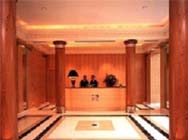 Hyatt International Corporation is a leading global hotel management company operating 85 hotels in 39 countries under the Grand Hyatt, Park Hyatt and Hyatt Regency brands. Hyatt Hotels Corporation, a sister company, manages 120 hotels throughout North America and the Caribbean.
Hyatt International needed to relocate and expand their existing German shared services center to become a Pan-European Shared Services Centre providing reservations, finance, information systems and other support functions for their hotels in the region.
As part of the same implementation, Hyatt needed to implement a new accounting system to its French hotels as well as a major upgrade to its worldwide central reservations system.
Having delivered a successful project in Melbourne Australia, Biko Technologies were again contracted to project manage the European implementation.
The balancing act
Biko Technologies' role comprised comprehensive project management including playing a key role in;
Site Selection and Space planning
Office layout / design
Determining Manning Requirements
Contact center staff recruitment & training
Wide Area Network selection
Telephony systems selection
IT Infrastructure planning
Transition planning
Implementation planning
Advice on business processes
In addition to the technical management of the project, Biko Technologies also managed the project budget, expenditure approval processes and kept key management informed on expenditure commitments.
Communication
Given the complexity of the project, frequent communication was required. This was achieved through management meetings, regular global conference calls and project status updates. A critical path was developed, updated and distributed to all key players frequently.
On time, under budget
The project was delivered on time and well within the agreed capital expense budget.
Realising the benefits
In addition to the smooth transition and expansion from the previous facility, Hyatt now enjoy new practical facilities such as a spacious break room for customer service agents, well equipped training facilities and state of the art telephony systems. Economies of scale, increased targeted focus on upselling and call conversions as well as re-designed processes and workflows resulted in measurable financial benefits to the participating hotels.