The Mission


To maximise the value of printed catalogues by making them available online.
To develop permission-based database of email addresses from which to promote current and future catalogues.

The Solution

Product catalogues will be available on the website
Customers will be able to 'opt-in' to be notified via email as new catalogues become available within their area
Printed catalogue pages can be viewed and zoomed in
Catalogue Pages can be printed as PDF files.
Visitors will input their postcode to ensure they see the versions of catalogues which are valid for their area.
Retravision will manage and administer the catalogues using a catalogue administration function.
The Result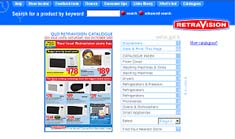 With the all important Christmas trading period rapidly approaching, Retravision are using their website in parallel with their printed catalogue distribution to maximize the reach of their catalogues
For a modest incremental cost, Retravision's online catalogue investment will ensure maximum reach and results
Customers who provide their email address will be automatically notified of new catalogues for their area

"We view the website as an important extension of our far-reaching physical store network.
By implementing our printed catalogues online as well as the opt-in email capability, we will further extend the value gained from our investment in printed catalogues."
Mr Keith Perkin
CEO
Retravision Pty Ltd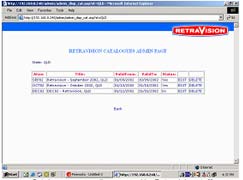 Retravision are Australasia's largest retailer of electrical appliances with over 570 stores throughout Australia and New Zealand.
Retravision wanted to extend the functionality offered on their website to include current product catalogues. Retravision have engaged Biko Technologies to implement this project.
Simple to Use
Considering that different catalogues are valid in different postcode regions for different date ranges, flexibility is essential, as is simplicity for visitors to the Retravision website.
Website visitors will be asked to input their postcode to view current valid catalogues for their area.
Customers will be able to zoom in on catalogue pages to take a closer look or to print pages in PDF format.
Simple to use navigation menu will ensure customers can easily get straight to the products that are of most interest.
Simple to Manage
Retravision did not want to introduce significant internal workload to manage the catalogues.
Individual catalogue pages will be uploaded to the website using standard file naming conventions.
A comprehensive catalogue administration function will enable Retravision staff to setup forthcoming catalogues in advance, set date ranges between which the catalogues should display and automatically remove expired catalogues.
Simple to Implement
Biko Technologies is working closely with Retravision to ensure the project is implemented on time and that expectations are met.
Before embarking on this project, a review of online catalogues from other website was conducted to ensure the solution for Retravision will be appropriate for their customers, fast and intuitive to use.
Additional Benefits
Email opt-in ensures customers will be updated via email notification as new catalogues are made available for their area.
This ensures Retravision are able to develop an e-marketing database from which to market future catalogues, reinforce the Retravision brand and advise customers of new product details and special offers.