The Mission


Implement a solution to promote and sell the group's 25 hotels, direct, via the group's corporate website.
Offer clients a secure, simple and fast solution to compare and book the group's hotels.
The Solution

A web booking engine that adopts the look and feel of the corporate website, is intuitive and fast for customers to use
Simple management tools empower the hotels to rapidly deploy and modify rates and offers on the website
A fully managed and supported solution ensures customers are able to browse and book, 24/7
Customer data is accessible to Mirvac, enabling them to develop direct online relationships with clients using tools such as e-marketing
The Result
Results count, and for Mirvac Hotels, the solution delivered a 500% increase in room-nights booked direct via their own website.

"The system was implemented in a professional manner, on time and on budget, and is generating impressive results for us.
With industry experts predicting that 16% of all hotel rooms will be booked online this year, we wanted to ensure we are offering our clients a convenient and competitive booking solution.
The booking engine provides a great foundation for our online distribution strategy by enabling us to offer competitive rates for our clients while minimizing our distribution costs."
Mr Andrew Turner
Chief Executive Officer
Mirvac Hotels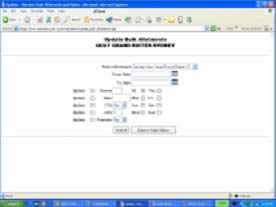 Mirvac Hotels own and operate 25 hotels under brands including Sebel, Citigate Sebel, Quay West and Quay Grand.
The hotels are situated throughout Australia and New Zealand in stunning city, beachside and country locations with some resorts offering ameneties such as day spas and championship golf courses.
A variety of guestrooms, suites and apartments are offered, each spacious and beautifully appointed.

Fully Managed and Outsourced
The Biko solution is fully managed and outsourced.
This means that Mirvac Hotels staff require no technical expertise, training or internal infrastructre to maintain and manage their web booking presence.
Easy to manage and update
Because Mirvac Hotels operate in a highly-competitive business, they need to be able to respond swiftly to changing market conditions.
The system provides administration functions that enable their hotels to quickly and easily deploy or modify rates, restrictions, offers and availability on the web-booking engine -- with immediate effect.
Scalable
The solution is built upon industry standard technologies ensuring Mirvac have a foundation which is scalable can adapt to meet their future needs.
Easy and fast to book
Mirvac Hotels wanted to implement a solution which would enable their clients to easily browse and compare the rates and packages on offer across their collection of hotels and to confirm a booking, quickly and securely.